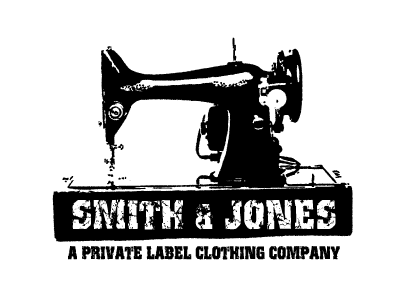 Let's Make Something Great!
Custom Screen Printing, Embroidery and Promotional Products
Let us help you make the best impression possible!
If it can be emblazoned with your logo, we can do it.

CUSTOM SCREEN PRINTING
We cover all of your custom screen printing needs.
At Smith & Jones we are experts in custom screen printed t-shirts and apparel. We offer high quality garments including basic tees, organics, blends and fashion tees. We can print artwork that you provide or we can help you come up with the perfect design. We work closely with you to achieve the look and quality that you expect before we start your project.
If you're wondering  "how do I go about placing an order" you're not alone, most customers come into our services with little experience in screen-printing, embroidery, labeling and/or garment sourcing. Fortunately we're here to make it as easy as possible.
Printing Process
Water Based
Much like a dye process water-based and water-based discharge are water born systems where the print ink is absorbed into the fabric. This creates a softer, longer lasting and more environmentally friendly screen printing process. Although there are some poly blended fabrics that are compatible with water-based printing it's recommended that only 100% cotton garments be used with this process. In some situations brighter fabric colors such as purple, royal and kelly green are not compatible with light on dark printing because they do not fully discharge.
Plastisol
A PVC or acrylic and liquid plasticizer ink system plastisol creates a durable surface film on the fabric. Although not as soft as water-based printing plastisol is far more versatile and when used intelligently can create a variety of desired effects. 4 color process, simulated process and metallic are all based on the plastisol ink system. We take care to minimize our footprint on the environment by using phthalates and PVC free inks when possible.
Direct to Garment Printing
Our printers use specialized inkjets that can apply designs directly on fabric, using a full CMYK color spectrum that requires less setup time and costs than traditional printing methods. No longer will designs be limited to just a handful of colors!
Nylabond
A plastisol additive that allows inks to adhere to waterproof nylon materials such as jackets and bags. Keep in mind that the temperatures needed to cure plastisol can often exceed the heat exposure recommended for treated synthetic materials, this results in having to flash cure some prints that use nylabond.
4 Color Process
With semi transparent plastisol inks four color process uses halftones of CMYK to create a photo realistic print process. As a subtractive color system CMYK must be printed over a white substrate. Although white garments are ideal colored garments are compatible with this system when a white baseplate is printed under the graphic silhouette.
Simulated Process
Much like 4 color process simulated process uses halftones to represent varied shades of a print color. However unlike 4 color process it uses solid opaque inks making it more compatible with darker garment colors.
Metallic Prints
Available in an array of colors metallics are plastisol based inks with reflective particles that create a chrome or gold like finish. Because these inks generally have a high viscosity a low mesh screen is required to print them making for a thicker ink deposit.
Glow Prints
A plastisol ink that uses phosphorus to store surrounding light and then illuminates it in the dark. This ink is generally transparent and can be overprinted on other print colors. It glows a light green.
Polyester Printing
Fabrics that contain high amounts of synthetic fibers releases their dye when heated causing dye migration between the garment and the screen printing ink. Specially formulated poly inks are required to preserve the intended print color.

CUSTOM EMBROIDERY
Need your company emblem on your jackets, hats or any other clothing items? Smith & Jones can do it.
Order customized embroidery from Smith & Jones for your custom apparel, t-shirts, hats, bags – pretty much anything you need! Ordering customized embroidered hats and customized embroidered shirts is easy! We will take your logo or design ideas, submit them to our digitizing team, send you back a proof of your customized embroidered shirts and deliver them directly to your door! Our goal is to make your customized embroidery process easy and simple.
Embroidery Information
Digitizing
Digitizing is the programing that tells the embroidery machine how to stitch your art, all art needs to be prepared by digitizing software. We charge a one time set up fee. This covers the digitizing, thread color matching and a pre production sew-out photo for approval. All customer art and job information is stored on our cloud database making for easy reproduction with no reset fees.
Art Submission
We can take art in almost any format but it is preferred that you submit your art as a vector. We know that this portion of the process can be confusing so just reach out to us with any questions and we'll take care of it. We do offer in-house design work if those services are needed.
Pricing
Embroidery is sold by the stitch count, quantity of units and the substrate that the embroidery is applied to.

PROMOTIONAL PRODUCTS
Pens, Water bottles, Golf Balls, and many other products.
At Smith & Jones we believe that for a successful business, every impression is important. Every trade show. Every client appreciation gift. Every promotional giveaway. We've helped thousands of companies and organizations make effective use of promotional products and branded apparel.
SOME OF THE PEOPLE WE WORK WITH
Over the last 20 years Smith & Jones has worked with some amazing clients, you could be the next.
CONTACT US
Smith & Jones is always here to help you fulfill your printing, embroidery and branding needs.
If you are ready to get started or just have questions about where and how to start, use the contact form on the right. Our representatives are always ready to serve you. Just give us a good email address to contact you at, the name of your project and a little about it.